Specialized Dental Care for the Entire Family!
Adult and Cosmetic Dentistry in Bedford, NH
Our Commitment: Compassionate and excellent dentalcare.
Our adult and cosmetic dentists are passionate about providing science based, cutting edge dental care with constant focus on patient comfort. We collaborate with each patient to understand and address individual goals and concerns. Communication between our dentists and our patients allows us to treat and guide our patients for the improvement and maintenance of their dental health and cosmetics. We believe in the importance of patient – dentist relationship as a critical part of great dentistry. Each of our patients can expect a personalized treatment outline that addresses their specific dental needs and priorities.
The dentists you see here are lifelong learners, committed to staying at the forefront of dentistry and integrating improvemen ts in comfort, quality, and treatment options. As a multi – specialty group, all of our dentists at Lindner Dental seek to learn and share knowledge with one another. At Lindner Dental our patients have access not only to excellent dentistry for routine needs, but also the latest advancements in dentistry including laser procedures, 3D – printing, intra – oral scanning, and Botox treatment.
Teeth Whitening, Veneers & Other Cosmetic Dental Services:
Veneers/CrownsWhether it's one tooth or many teeth, we can help you create the smile you always wanted.
Custom Staining and Glazing
Our in office laboratory allows us to deliver to you a uniquely designed restoration that can be custom stained and glazed to best match your teeth. Our many color options help to make your restoration as life like as possible.
BleachingMany patients wish to have whiter teeth. Our office can help fit you with custom trays to speed up the whitening process. We will provide you with the whitening and we will help you monitor your progress along the way.
Laser DentistryOur Waterlase machine combines water, air and energy to cut through both hard and soft tissues in the mouth. It can be used to remove cavities, cut awa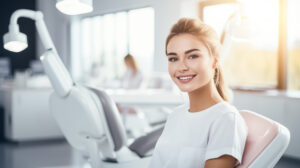 y excess tissue, remove bone and even perform smile design. Advantages include more precise dentistry, less trauma, reduced bleeding and reduced inflammation.
Custom Night Guard / Custom Sports GuardsPerhaps you clench or grind your teeth? Or perhaps you wake up with headaches? We offer custom fit nightguards that help protect your teeth from loosing enamel and protect the musculature of the face. Do you or your kids play sports? We can help protect their teeth in case of accidents or trauma. The guards offer more comfort and better fit than an over the counter guard.
Visit Lindner Dental For Top Cosmetic Dental Services in Bedford, NH
Lindner Dental Associates offers the best adult and cosmetic dental services in Bedford, NH. Whether you are looking to brighten your smile with our professional teeth whitening, or want to improve your smile with our crowns and veneers, our dentists are here for you. If you're missing only one tooth or many teeth, we will do whatever it takes to provide you with a smile you always wanted. Learn more about how we can help you by giving us a call at 603-624-3900.