Specialized Care for the Entire Family!
Pediatric Dentistry in Bedford, NH
Why Choose A Pediatric Dentist?
Pediatric dental specialists complete a minimum of two years of training following dental school. This additional extensive training focuses on the clinical and behavior management of infants, children, and adolescents, including patients with special needs. The very young, pre-teens, and teenagers all need different approaches in working with their individual behavioral needs, guiding their dental growth and development, and helping them avoid future dental problems. A pediatric dentist is best qualified to meet these needs.
Good oral health is an important part of overall health. As your child's dental home, we will have the opportunity to implement preventive dental health habits to keep your child free from dental and oral disease. From the moment you walk into the practice, your child will be embraced in our warm, caring and child-friendly environment.
When Should I Take My Child to the Dentist?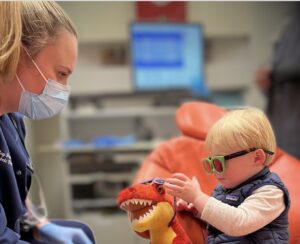 The American Academy of Pediatrics (AAP), American Dental Association (ADA), and American Academy of Pediatric Dentistry (AAPD) all recommend establishing a dental home for your child by age one. Children who have a dental home are more likely to receive appropriate preventive and routine oral health care. Similar to how your child's pediatrician serves as a home base for health, we would feel privileged to serve as your child's dental home as they grow.
Why So Early?
Your child's first dental visit at age 1 allows your child to be established in a dental home. Children can start to have cavities as young as 6 months of age. Since treatment of decay in young children can be costly and traumatic for the parent and child, our emphasis is placed on preventing the dental disease before it starts.
Establishing a relationship with a pediatric dentist early in a child's life helps to establish a plan of action in the event of an emergency involving the mouth. Unfortunately, injuries involving the teeth and surrounding areas are common as your infant learns to walk and explore his or her environment.
The First Visit
At Lindner Dental Associates, our goal for the first visit is to establish a warm relationship with you and your child. For young children, the first visit is an introduction to acquaint your child with our dental office, doctors and staff. We have found that a calm, friendly, and fun environment is the key to a successful first visit.
We understand that you or your child may be anxious, and our staff will help your child every step of the way. We encourage you to talk to your child in a positive way about what to expect and to build excitement about coming to the dentist.
Our pediatric dentists and pediatric dental hygienists will answer your questions and discuss appropriate diet and oral hygiene practices that will achieve optimal results for your child's oral health. One of our pediatric dentists will then examine your child's teeth and gums to check for any problems. Any and all questions are encouraged – we want to provide you with the answers and information to feel confident in managing your child's oral health. This visit will provide a proactive way for your child to maintain a cavity-free mouth.
Treatment of Cavities in Children
Nitrous Oxide: Small procedures in cooperative children can often be done in our office under local anesthesia (numbing), with or without nitrous oxide sedation. At Lindner Dental Associates, we have mounted tv screens where children can select a movie to watch during their procedure. Tell – Show – Do is a method we use to explain and prepare children for their dental treatment. First, we explain what is to be done using friendly, age – appropriate terms and descriptions. Then, we show how it is done, and finally we perform the procedure. The most common form of sedation we use in our office is nitrous oxide (laughing gas). The American Academy of Pediatric Dentistry recognizes this method as a very safe, effective technique to help relax anxious children during treatment.


In-Office Sedation: In-office Sedation is an alternative for children who need a moderate level of sedation to complete their dental treatment. This method of treatment allows your child to complete dental procedures without stress and discomfort. We work with a sedation team comprised of a pediatric anesthesiologist and nurses to provide dental care in a safe, caring environment in our dental office.


Hospital Care at the Elliot 1 Day Surgery Center: Some children require an extensive amount of dental work. In these circumstances, it is difficult for a small child to cooperate and often the treatment cannot be done properly in an office setting. Under these conditions, we may recommend treating your child in a hospital setting under general anesthesia. All treatment, including dental exam, radiographs, cleaning, and restorative work, is completed when the child is asleep – thus giving a child a fresh start with their oral health when they wake up.

What Is The Best Toothbrush For Your Child?
At Lindner Dental Associates, we want to help parents give their children the best possible care! Watch the video below to learn which toothbrush is best for your child so you can teach them the importance of brushing their teeth!
Contact Lindner For Pediatric Dental Services in Bedford, NH
At Lindner Dental Associates, we're committed to providing your child with gentle, yet effective pediatric dental services. We know it may be hard for them to sit still in our chairs, but our pediatric team will do whatever they can to show them the importance of good oral health! We will teach them teeth brushing routines and good oral habits so they can grow up with happy, healthy teeth! To learn more about our pediatric dentistry, give us a call at 603-624-3900.