Orthodontics, Braces, Invisalign, 3D Print Braces & More in Bedford, NH
Our Mission
A healthy confident smile that lights up the room has the ability to open up opportunities both socially and professionally. At Lindner Dental, it is our mission to help give our patients that confidence. We accomplish this by offering the various orthodontic treatment options that are tailored to individual patient needs. Our orthodontists, Dr. Tracy and Dr. Jia are passionate, professional, and attentive.  Our highly trained orthodontic team of professionals will help to ensure that our patients receive the highest level of care possible.
Orthodontic Services We Offer:
Invisalign and Invisalign TeenNo metal, no food restrictions, less pain. We are consistently recognized by Invisalign as VIP Platinum Providers due to our extensive experience in treating patients with Invisalign to achieve beautiful smiles.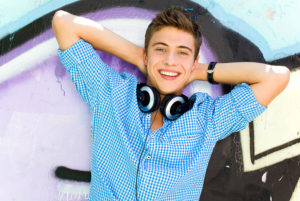 Braces TreatmentWe offer both traditional metal and clear braces for patients who prefer to have something that stays in the mouth throughout the duration of treatment. With options to choose your colors, traditional braces can be a great choice for correcting your smile. With our advanced technology treatment is more efficient and comfortable than it used to be. 
3D Printed LightForce BracesLightForce Braces are fully customized 3D printed braces so each brace is designed uniquely for you!  This cutting-edge technology allows for better accuracy and efficiency with your orthodontic treatment!
Early Monitoring for ChildrenThe American Association of Orthodontists recommends that children see an Orthodontist as early as age 7 to monitor crowding and jaw development. At this visit we will discuss any future treatment that may be needed for your child. Some orthodontic problems are easier to correct if they are found early.
Treatment For TeensWe strive to make the entire experience in treatment fun and rewarding.
Adult TreatmentMany adults are concerned about the appearance of their teeth but do not want metal braces. Invisalign treatment and clear braces enable us to improve your smile without anyone even noticing!
RetainersOrthodontic treatment doesn't end with braces or Invisalign. Keep your smile straight and beautiful forever with custom retainers! We have several retainer options to suit your needs and to maintain your healthy, beautiful smile.
Athletic MouthguardsOur mouthguards are comfortable and help protect your smile all the way to the championship game!
Sleep ApneaWorking closely with your medical doctor, we prescribe dental appliances to treat this potentially life-threatening disease.
Combined Orthodontics with Orthognathic SurgeryIn patients with significant jaw growth discrepancies, we work closely with oral and maxillofacial surgeons to harmonize the jaw relationship.
Digital RadiographsX-rays with less radiation and enhanced image quality.
Itero ScannerNo more gooey molds! Instead, using state – of – the – art technology, we take a scan of your teeth creating a precise digital 3D model in just minutes!
Contact Lindner Dental For A Trusted Orthodontist in Bedford, NH
For the most trusted orthodontic care in Bedford, NH, contact Lindner Dental Associates. Our orthodontists work with each patient individually to determine the type of braces that is best for their age, mouth, and preference. Whether you are looking for traditional metal braces that are newer and improved from the older days, want an invisible look to tighten your teeth with Invisalign, or our 3D printed braces that are completely created, adjusted and effective for you, our team is here to help. Give us a call today to learn more about our nightguards, braces, and other orthodontic services at 603-624-3900.